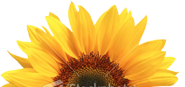 Welcome to dutch mill gardens
Dutch Mill Gardens Inc is a family operated outdoor cut flower farm. With over 30 years in the business, we pride ourselves in providing flowers that bring a smile and feeling of warmth into your home. We grow all our own product on 250 acres in Lynden, Ontario. All flowers are hand picked and bunched into beautiful bouquets. All with a special Taste of Country. Choosing the best variety and having the best growing practices, makes us a leader in the industry. We take great pride in the health, and ultimately the clean vibrant look of our sunflowers. We provide a wide variety of sunflower bouquets, and mixed country bouquets. Servicing the mass market, farmers markets, florists, and wholesale distributors.

Our Mission

To deliver a high quality product that exceeds all your expectations that the consumer will come back for. We are very proud to say our farm also has an

Environmental Farm Plan

in action!